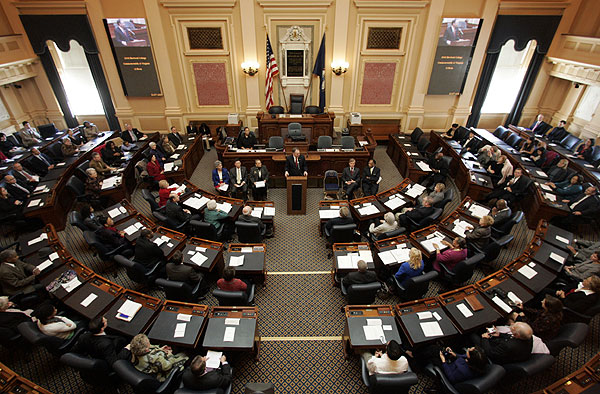 Wes Fisher (JMU), Josh Humphries (JMU), Kyle McCauley (W&M)
Along with statewide elections this November, all 100 seats of the Virginia House of Delegates will be up for election. A quick look at Virginia Public Access Project's (VPAP) election map will show that 43 of these seats will only have one name on the ballot and many more feature candidates such as the 22 year old Democrat facing current Delegate Webert (R) who have absolutely no chance of being elected. Luckily for us College Republicans, the GOP is in no danger of losing their majority in the House of Delegates this year. Below, three CRs take a look at a few of the more contested delegate races this election season – and why they're confident the Republicans will prevail.
District 12 | Delegate Joseph Yost (R) incumbent | James Harder (D)
Harder, whose grandmother was a state delegate from Blacksburg in the 1980s, will challenge one term Republican Joseph Yost for the seat. Democrats may think they have an advantage here because the district was won by Obama with 51% in November. Before they get too excited they should realize three things, (1) that a minuscule fraction that the college students from Virginia Tech that were eager to vote for Obama will care enough about state elections to participate this year (2) that off-year elections typically favor conservatives and  (3) the College Republicans at Virginia Tech are eager and mobilized to help Delegate Yost win reelection.
District 17 | Delegate Chris Head (R) incumbent | Freeda Cathcart (D)
Chris Head of Botetourt County represents the 17th district in House of Delegates and is a local franchise owner of Home Instead Senior Care. After the completion of his freshman term, Delegate Head has a proven record of pro-business policies, has been endorsed by the National Federation of Independent Business, and is the recipient of the Champion of Free Enterprise Award from the Virginia Chamber of Commerce. Head is facing the same opponent as he did two years ago, Freeda Cathcart, who is endorsed by Howard Dean, is anti-gun and an avid supporter of Obamacare. After the only debate between Head and Cathcart two years ago, The Roanoke Times endorsed Head stating, "…Cathcart is too poorly informed on too many issues." After winning over 65% of the vote in his first election, all signs point to a clean victory for Del. Head in November.
District 34 | Delegate Barbara Comstock (R) incumbent | Kathleen Murphy (D)
Delegate Barbara Comstock (R) has represented Virginia's 34th District since 2009 and is the only Republican delegate to represent a district that includes areas inside the beltway. Delegate Comstock has been able to attract support across party lines due to her efforts to keep taxes low, expand and strengthen the business community, and improve the quality of life of Northern Virginians.  She has been endorsed over the years by a bipartisan group of business leaders as well as Fairfax Chamber, Virginia Bankers, Virginia Realtors, and Northern Virginia Technology Council just to name a few. She has attracted strong union opposition because she wrote the law which required competitive bidding which has already been credited to saving up to $400 million on Dulles Rail and will save millions more in future transportation projects and will stretch our transportation dollars further.  Despite a fierce opponent with abundant DNC support along with out of state union donations behind her, Barbara's bipartisan appeal and record of constituent service will carry her to victory in November.
District 85 | Scott Taylor (R) | Bill Dale (D)
Taylor came out on top of a highly contested primary that gained statewide attention and will be facing Democrat Bill Dale in the general election. This district seems to favor the GOP. Although the district had less than a point of difference between Obama and Romney in 2012, McDonnell and the GOP ticket swept 2009, and the seat is being vacated by a retiring Republican. All signs point to a win for Taylor.
District 87 | Delegate David Ramadan (R) incumbent | John Bell (D)
Delegate Ramadan, who has proven to be a rock solid conservative in his first term, is facing a challenger funded in part by Howard Dean and national Democrats. This is a district that went for Obama with 56% in 2012 but was won by McDonnell in 2009 with a whopping 59% of the vote. More importantly than numbers, Delegate Ramadan has provided outstanding constituent services in his first term and enjoys a fundraising advantage. He has also established an outstanding social media presence. For all these reasons, I'm confident he will fare well on November 5.
Click the hyperlinks to be taken to the candidate websites.
Edited by CRFV Deputy Communications Director Kate Gaziano
—
The views and opinions expressed in this article are those of the author and do not necessarily reflect the official policies or positions of the College Republican Federation of Virginia.